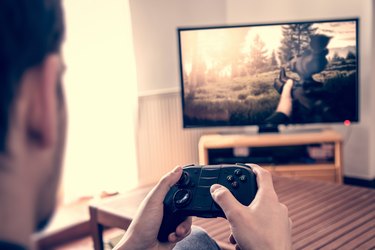 Using your Xbox 360 in 2011 involves not just game discs but saved game files you can store on your personal computer. This allows you easily free up console memory as well as to move that saved game to a new Xbox device in another location. Moving this data around doesn't require any special knowledge, just the right kind of USB driver from Xbox and the proper settings in place. In all, an Xbox USB driver can hold 16 GB of gaming files. If you need more storage than that, you'll need a data transfer cable, also available from Microsoft.
Step 1
Ensure your Xbox 360 is equipped to handle your new USB driver. Microsoft urges USB driver users to upgrade their consoles to a spring 2010 version or better. Use Xbox Live, a flash drive or a CD burner to perform the firmware upgrade.
Step 2
Configure your USB device after your console's upgrade is completed. With the console on and connected with a working television, plug the USB driver into an available USB port on your Xbox 360.
Step 3
Use your controller to choose "My Xbox" then "System settings." Then choose "Memory."
Step 4
Pick "USB Storage Device" from the "Storage Devices" menu. Choose "Configure now" to ready your device for its first download. Follow the remaining prompts to configure the driver.
Step 5
Save individual game files to the USB driver by accessing the "Memory" folder.