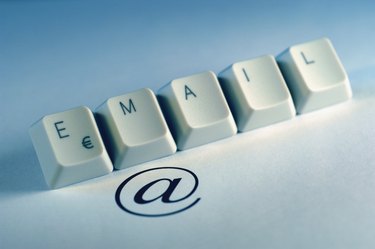 When you replace your current computer with a new one, you have to transfer your programs and files. Transfer Outlook email to enable you to access all of your old emails on your new computer. Outlook enables the simple copy and transfer of these files for a seamless transfer to a new computer system. After you finish copying the files you need, your new computer will contain all your old emails.
Step 1
Open the "Control Panel" and double click the "Mail" icon to open it, on the old computer. Select "Show Profiles" and then select "Properties." Click the "Data Files" button. Highlight "Personal Folders" under the "Name" heading and select "Settings."
Step 2
Find the file name and copy it so you can find the file on your computer. Click the "Compact Now" button to compact the file and make it easier to copy and transfer. Wait while the files compact and then click "OK." Close all the windows.
Step 3
Insert the flash drive into a USB port of your computer.
Step 4
Navigate to the location of the compacted file and right click this file. Select "Send To" and select the flash drive from the drop-down list of places you can send the file. Click "OK."
Step 5
Select the "Safely Remove Hardware" icon from your System Tray (lower right corner of your desktop) once the files transfer to the flash drive. Highlight the flash drive and disconnect the flash drive when you see a message telling you to do so.
Step 6
Insert the flash drive into your new computer and wait while the computer recognizes the connection. Open the flash drive contents by double clicking the icon within "Computer." Copy the PST file and paste it to your desktop.
Step 7
Open Outlook on your new computer and select "File" and then "Import and Export." Select "Import from another program or file" and then select "Next." Select "PST file" and then browse to the location of the PST file on your desktop. Select this folder and click "OK." Wait while the PST file imports into your new Outlook browser.
Step 8
Select the "Safely Remove Hardware" icon again and disconnect the flash drive using the same technique you used earlier.