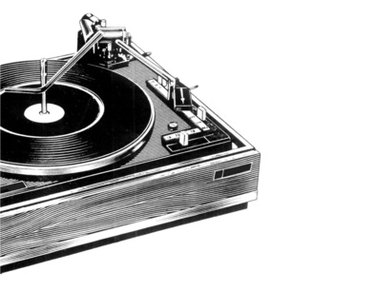 The Crosley Radio Company's extensive line of turntables ranges from antique reproductions to state-of-the-art USB-powered portable devices. With the recent popularity of vinyl records among the iPod generation, turntable production is on the rise. Most problems associated with Crosley turntables are not due to malfunctioning equipment. Records starting in the wrong spot, no sound, platters rotating at the wrong speed tone arms not returning can be fixed by simply understanding how turntables work.
Step 1
Adjust the suspension screws. These screws lock the turntable down for transportation purposes. Some turntables have more than one suspension screw. Turn the screw clockwise all the way, but do not over-tighten. This allows the turntable to sit on its suspension.
Step 2
Remove the protective plastic from the needle. If left on, you will not have sound, and the tone arm may skid across your record. Make sure the needle does not come off when you remove the protective cover.
Step 3
Check to make sure the AC power cord fits in the power outlet. If it doesn't fit, turn it upside down and try again. It has a polarized plug and will only fit one way.
Step 4
Make sure the unit is turned on. Some turntables have power buttons, but others use the volume knob. If your unit has a volume on/off knob, turn the knob clockwise from the "off" position until you hear a click.
Step 5
Use the function selector to choose "phono." If your device has a function button, wait a second between each function selection before pushing the button again until you arrive at the phono selection. If your turntable does not have a function button, look for a switch that slides from "phono" to other selections, such as "radio" and "USB."
Step 6
Remove any cassettes that may be in the cassette player.
Step 7
Select the speed for your record to ensure that it starts playing in the right spot and rotates at the correct speed. The speed switch has three choices: 33, 45 and 78.
Step 8
Reset the tone arm so it will automatically return to its resting position. Starting at the tone arm's resting position, lift it and move it over to the spindle. It should return automatically from your hand, thus resetting the return function. (Some models, like the Crosley Revolution CR6002A, do not have an automatic-return function.)
Step 9
Check the "line in" switch (usually on the back of the unit) and turn it to the "off" position.