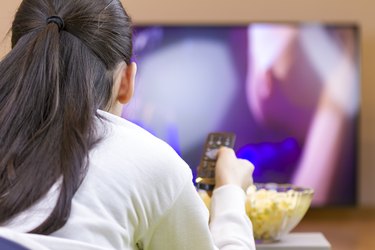 Blu-ray DVD technology allows DVD manufacturers to increase the amount of data on a disk. Samsung was one of the earliest companies to support Blu-ray technology. Occasionally, individuals using a Samsung Blu-ray player may experience technical difficulties or errors when trying to play a Blu-ray disk. Learn how to troubleshoot a Samsung Blu-ray player to fix these errors and restore your DVD player's functionality.
Update the Samsung Blu-Ray Player's Internal Firemware Software
Step 1
Update the Samsung Blu-Ray player's internal firmware. Download the Samsung Blu-Ray software updates from the Samsung support website (see "Resources" below) to your computer. Double-click the file to uncompress it, then burn to a blank CD.
Step 2
Press the "Open" button on the front of the Samsung Blu-Ray DVD player. Place the burned CD into the DVD player's tray and press the "Open" button a second time to close the tray.
Step 3
Use the arrow keys on your DVD player's remote control to select "Yes" or "No" when the DVD player asks if you would like to update the player's internal software. Press the "Enter" button to initiate the update. This process takes approximately ten minutes. Updating the internal software can fix many of the common errors encountered when using a Samsung Blu-Ray DVD player. Eject the disk upon completion.
Verify the DVD Player's Hardware Integrity
Step 1
Ensure that the DVD you are attempting to play is Blu-Ray compatible. The DVD disk and the DVD case should display the Blu-Ray symbol.
Step 2
Check that the bottom, silver side of the DVD is not scratched. Common playback issues are often causes by scratches or smudges on the side of the DVD that the Samsung player tries to read. Use a soft cloth to remove any smudges and re-insert the disk to attempt playback again.
Step 3
Unplug all connector cables between the Samsung Blu-Ray DVD player and your television set. Color issues and problems with the display is often causes by a connector cable that is not securely inserted into your television. Insert the cables back into their appropriate plugs, checking that each cable is securely and firmly plugged in.