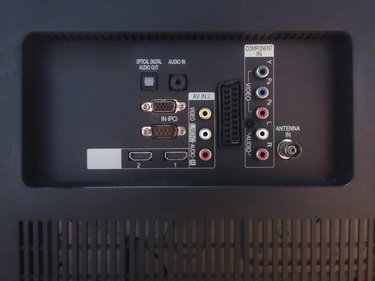 When companies like Sony, Toshiba, Philips and Hitachi got together to develop the High Definition Multimedia Interface (HDMI) standard, the point was to make connecting your audiovisual devices easier in addition to supporting the transfer of hi-def, high-bandwidth data. The HDMI cable replaces those three fussy composite cables that used to be the standard. Though Sharp's lineup of 4K TVs touts features such as high dynamic range, Android operating systems and built-in Roku support, wonky HDMI inputs aren't a key feature. When your port starts acting up, start with the basics before reaching out to the pros.
Don't Panic: Start Simple
Whether you have a Sony, Samsung or Sharp TV, troubleshooting should start simple. If your Sharp TV HDMI is not working, there's no picture signal, or the input isn't recognized, first ensure that the HDMI cable is plugged into the output port on the external device and the input port on your TV. Most of Sharp's 4K lineup features three HDMI inputs, so make sure that the external device is powered on and use the arrow keys on the remote for your smart TV to highlight "HDMI 1," "HDMI 2" and "HDMI 3," pressing "OK" to check each input for a signal.
Don't forget the old "turn it off and turn it on again" trick. Likewise with unplugging the cable and plugging it back in. Sometimes, this is all your devices need to initiate a successful HDMI "handshake," as the tech pros call the connection.
Investigate Advanced Issues
Sharp TVs connect to a whole cornucopia of devices via HDMI, from Google Chromecast to Nintendo Switch. If you're trying to hook up a home theater system, sound bar or speaker system that uses the ARC (Audio Return Channel) standard via HDMI but you're not getting any sound, access the TV's settings or options menu to set the Audio Return Channel to "Auto."
Similarly, various Sharp smart TVs – from older Aquos models to 2018's 4K models – support syncing features that automatically turn on your sound system when you turn on the TV or turn on your TV when you turn your gaming console. While you're in the settings menu, try turning any features with names like "link," "control" or "sync" on or off to see if that makes a difference.
If your Sharp TV's input is not working despite these troubleshooting attempts, it's entirely possible that the HDMI cable itself is the culprit. Try the cable with a device and TV that you know have fully functional HDMI ports. If you still don't get an AV signal, it's time for a new cable.
Sharp TV Troubleshooting: Going Pro
When all else fails, a more complex issue such as a faulty port may be at play. To avoid tech headaches and the possibility of voiding your warranty with DIY repairs, call in the pros at Sharp.
If you prefer text, you can submit a request for help at SharpUSA.com via an online form. For a person-to-person option, give Sharp product support a call at 1-800-237-4277 (or for something a little easier to remember, 1-800-BE-SHARP).