At times, your Sharp TV may not recognize connected HDMI equipment. The benefit of connecting high-definition multimedia interface DVD players, A/V receivers, PCs, and other electronics is obtaining the clearest audio and video with limited cabling. The inputs, cords and settings must be correct in order for HDMI equipment to work with your TV.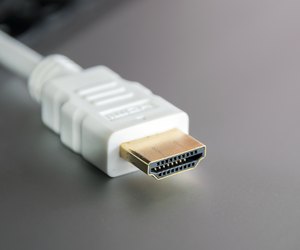 credit: ananaline/iStock/Getty Images
Step
Check the power source. Confirm that the power plugs for your HDMI equipment are completely plugged into the wall outlet.
Step
Verify the inputs. Check that the HDMI cable is securely connected to the equipment and also "Input 4" or "Input 5" on the TV. Connect equipment that requires an "HDMI-DVI" conversion cable to "Input 5."
Step
Confirm that the "Input Skip" setting is not selected. Press the "Menu" button, then press the left or right arrow buttons and select "Setup." Press the up or down arrow buttons and select "Input Skip." Press "Enter." Select "No" for "Input 4" and "Input 5."
Step
Verify that your HDMI setup is correct. Press the "Input" button on the remote control or TV control panel. Press the up and down arrow buttons and select "Input 4" or "Input 5." Select "Auto View," then select "Enable" to view recognized signals. Select "Audio Select" and select "Digital" only if you have external equipment attached to Input 5.