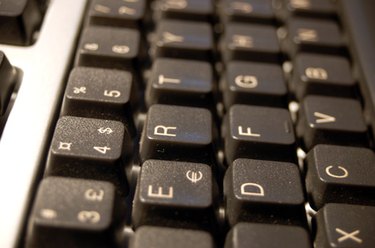 The Apple iPhone can easily be turned into a keyboard for your Macintosh computer or PC by downloading a third-party application. This application can be downloaded from the App Store application on your iPhone and requires an iTunes account to purchase it. Once downloaded, this application converts your iPhone into a keyboard, which connects to your computer by using your computer's shared Wi-Fi connection. While the phone is being used as a keyboard you can plug it into your computer, which charges the phone while you're using it.
Step 1
Press the "Home" button on your iPhone, and tap the "App Store" icon on the screen.
Step 2
Tap the "Search" button and tap the search bar at the top of the screen. Type in "iTap" and tap the "Search" button in the lower-right corner of the screen.
Step 3
Tap the "iTap: Wi-Fi touchpad" search result and tap the "$3.99" button. Tap "BUY NOW" and enter your iTunes account password. Tap "OK" to begin the download and installation.
Step 4
Tap the "Settings" icon on your screen, and tap the "Wi-Fi" tab.
Step 5
Slider your finger across the switch to change it to "ON" and tap your Wi-Fi network. Enter the password if applicable, and tap "Join." Insert the USB cable into your iPhone and plug the other end into your computer's USB port.
Step 6
Click the link in the Resources section to download the iTap receiver for your computer, and install the software. Once downloaded, open the "Applications" folder in Finder and double-click "iTap Receiver" for Macintosh computers. For PCs, the iTap receiver will automatically start and can be found on your toolbar.
Step 7
Check to make sure your computer is connected to the same Wi-Fi network as your iPhone, and tap the "iTap" icon on your iPhone screen. Tap your iPhone in the iTap discovered list on your computer, and click "Pair with Selected Device."