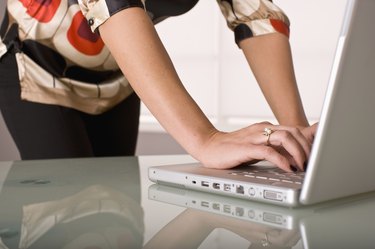 Laptops are the portable and easily accessible personal computers that are decorated with all those wonderful lights and whistles. However, there are times where you might want to turn off some of these lights. This can be true for the Toshiba Satellite, which is laptop that has a back-light LED that lights up the name Satellite. Turning off the LED light-up display may be a little difficult, but with a few button presses this task can be completed rather easily.
Step 1
Press the "Fn" button on the Toshiba Satellite, which is usually located in the bottom left corner of the keyboard between the "Ctrl" and "Windows logo" keys.
Step 2
Click the button that appears on the screen to the furthest right. There will be many buttons displayed on the screen so press the button that is on the right end of the screen.
Step 3
Click the "HWSetup" button. A system menu will appear where you'll need to click on the "Illumination" tab. Click on the "Off" radio button that will turn off the illumination on the Toshiba Satellite. This guide is specific only to the Toshiba Satellite.
Tip
There might be a slight variation in the way the steps function depending on your laptop model. Always check with the manufacturer's website and user manual.