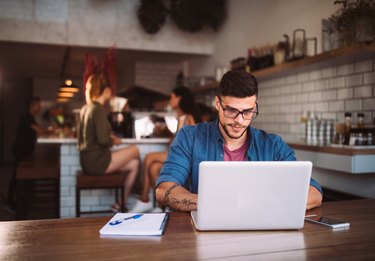 ActiveX controls are specific to Internet Explorer and Microsoft web-based products, and they're not compatible or supported by Mozilla's Firefox browser or Google Chrome. You can work through the issue, however, to enable ActiveX within the Firefox ecosystem. Before making that step, consider whether you actually need the ActiveX controls. Firefox enables numerous controls and extensions to support similar tasks.
Do You Need ActiveX?
ActiveX controls in Internet Explorer are essentially a system for plug-ins. Firefox and Chrome browsers both offer plug-in and extension capabilities, and the average user doesn't really need ActiveX on these browsers. You simply need a plug-in or extension that serves the same purpose as your old ActiveX controls.
The main reason for wanting an ActiveX control on your Firefox or Chrome browser is to extend your office or work capabilities to your home computer. ActiveX controls on a network are necessary to run applications across multiple computers and across the entire system in general. Everyone on the network must use the same ActiveX control settings to operate plug-ins or applications consistently.
Install Internet Explorer
One workaround is to simply install Internet Explorer on the computer and use it exclusively for ActiveX control settings. It will allow you to view and run media files associated with your network that requires ActiveX. Keep Firefox as your primary browser and open Internet Explorer only when you need ActiveX controls to run specific applications. Keeping the two separate also minimizes the need for third-party updates and programs to force compatibility between ActiveX and Firefox.
ActiveX Firefox Settings
Running ActiveX Firefox settings is done through a third-party extension that essentially mirrors ActiveX controls found in Internet Explorer. In Firefox, you must download the plug-in ff-ActiveX-host. This will make your browser compatible with ActiveX controls so you can open music, video and other media files designed for specific compatibility with your Internet Explorer browser settings. A basic internet search will also yield a number of free and paid third-party extensions that perform the same function.
ActiveX and Chrome Settings
Chrome uses extensions for third-party functions rather than plug-ins. In a Chrome browser, the IE Tab extension will also make your browser compatible with ActiveX Controls using a mirroring system. The settings won't interfere with any basic Chrome or Firefox functions, and the extension is easy to remove in your extension manager when the need for ActiveX settings is no longer present.