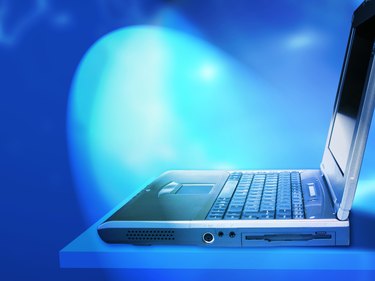 Many laptop models manufactured by Dell come with a small Ambient Light Sensor (ALS) located on the bezel just below the monitor. The ALS senses the available light in the room that the laptop is used in and adjusts the backlight of the display accordingly, increasing the screen's visibility in both low-light and high-light environments. When shipped, the laptops come with ALS disabled so in order to take advantage of the feature, you must enable the sensor yourself using one of three methods: through the system BIOS, by keyboard shortcut, or through the QuickSet taskbar utility.
Step 1
Turn on your Dell laptop computer and enable the Ambient Light Sensor in System Bios by pressing the "F2" key when the word DELL flashes across the screen during boot-up. This will open the System Setup menu. Highlight the Video option in the opening setup screen by pressing the "Down Arrow" key. Press the "Right Arrow" key to open the sub-menu and then use "Down Arrow" to highlight the "Ambient Light Sensor" option. Press the "Right Arrow" until the selection reads "Enabled", and then press the "Enter" key to save the selection. Press the "F10" key to save the system settings to BIOS, followed by the "Enter" key to confirm and restart the system.
Step 2
Wait for the system to boot completely to the desktop before turning on the Ambient Light Sensor using keyboard shortcuts. Press the "Fn" key located on the bottom left side of your keyboard to the right of the "Ctrl" key and, at the same time, press the "Left Arrow" key located on the bottom right side of the keyboard to activate the Ambient Light Sensor.
Step 3
Enable the Ambient Light Sensor using the QuickSet utility in the system taskbar by double-clicking the QuickSet icon (the large capital QS in the taskbar) to start the QuickSet utility. Press the "Panel Brightness" link to open the QuickSet LCD Panel Brightness Control window. Click on the circle next to the option labeled "Enable Ambient Light Sensor." Select a position on the slider bar to choose the brightness range of your monitor based on the amount of ambient light present in the room during computer operation. Press "OK" to enable the feature using the selected settings.
Tip
Disable the Ambient Light Sensor by employing the same method used to enable it.
Warning
The Ambient Light Sensor does not operate when the computer is connected to an electrical supply.
Keep the Ambient Light Sensor window at the base of your monitor uncovered and make certain that you haven't pointed a light source directly at the sensor window in order to allow the sensor to function properly.