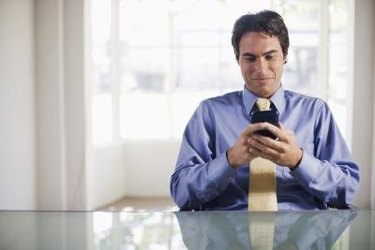 RIM's BlackBerry line of smartphones are based around a patented "Push" email solution based on the use of proprietary BlackBerry email servers. Most BlackBerry models have full-QWERTY keyboards for text entry and have backlit keys to aid in their use in the dark or dim light. Keyboard brightness is primarily controlled by ambient light sensors, which light up the keyboard and increase or decrease the brightness of the main display as and when needed. However, it is possible to manually switch on and set the brightness of the backlight for all BlackBerry OS5 devices.
Step 1
Press the "Options icon" on the "Home Screen" to bring up the options menu.
Step 2
Select "Screen/Keyboard" to bring up the screen and keyboard options menu.
Step 3
Select the "Backlight Brightness" field to set a backlight brightness. Pick a value between "0" (off) and "100" (full brightness).
Step 4
Press the "Menu Key" to bring up a confirmation dialogue.
Step 5
Select "Save" to confirm the brightness setting.
Tips & Warnings
The "Backlight Timeout" and "Automatically Dim Backlight" options can also be adjusted in the "Screen/Keyboard" menu to your personal preference.
Increasing the keyboard backlight brightness and duration will reduce your BlackBerry's battery life.