On the iPod Classic, turning the shuffle feature on or off requires a trip through the system settings. Look in the Music settings on an iPhone, and you won't find any such option. To make it easier to enable and disable shuffle instantly, the iPhone positions the shuffle toggle directly on the Now Playing screen beneath the volume slider of each song in the Music app. If your songs shuffle unexpectedly even with the option disabled, turn off "Shake to Shuffle" in the Music settings.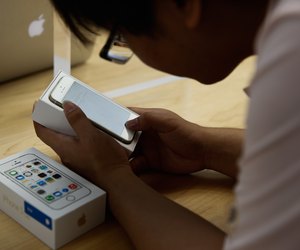 credit: Lintao Zhang/Getty Images News/Getty Images
Disabling Shuffle
Step
Open the Music app from the Home screen. Alternatively, open the Control Center while in another app by swiping up from the bottom of the screen and then tap the title of the currently playing song.
Step
Tap "Now Playing" or choose any new song from the "Songs" tab if the Music app opens to your library rather than displaying the current song.
Step
Press "Shuffle All" on the Now Playing window to turn off the shuffle feature. The button changes to read "Shuffle," which you can tap to turn on the feature.