Notes is a useful app for jotting down reminders, phone numbers or information on your iPhone when you're on the go, but it has limited editing features. However, your iPhone has an Undo function that works in Notes, known as "shake to undo." To access it, get physical with your phone and give it a shake. You don't have all the functionality you get with the Undo command on your computer, but if all you need to do is delete the text you just typed, it'll do the job for you.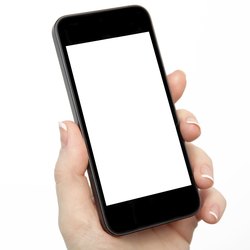 credit: Prykhodov/iStock/Getty Images
Step
Stay in the note you've been working on. If you close it down, your iPhone saves your work, and you won't be able to use the Undo function.
Step
Take a firm grip on your iPhone -- you don't want it to fly across the room when you shake it. Shake it firmly from side to side two or three times to open the Undo Typing menu.
Step
Tap the "Undo" button. All the text you entered in the note in this session disappears. If you change your mind and decide not to cut the text after all, press "Cancel" to return to the note.
Step
Shake the iPhone a couple of times again if you change your mind and want to restore the text you've just deleted. In the Redo Typing menu, tap "Redo" to restore the text.