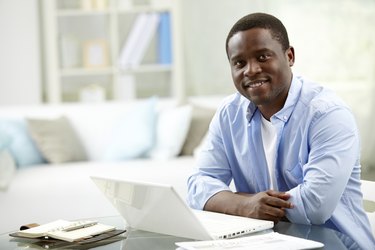 You might have had use for certain software applications at some point, but when you're no longer using them -- or they're really outdated -- you'll save memory space on your computer by uninstalling them. In previous versions of the Mac operating system, including Lion and Mountain Lion, you'd achieve this by navigating to the Finder, dragging the application icon to the Trash and then emptying the Trash. You can also do that with certain apps using the Mavericks OS X, but for apps you downloaded from the Mac App Store, the process is slightly more streamlined.
Apps From the App Store
Step 1
Click the Launchpad icon from the Dock at the bottom or side of your computer.
Step 2
Locate the icon for the application you want to remove from the Launchpad screen, and then click or tap and hold down on the application icon. This will cause all the icons on the Launchpad screen to wobble.
Step 3
Click or tap the "X" on the icon of the application you want to remove. This will remove the application.
Apps Not From the App Store
Step 1
Click the Finder icon at the side or bottom of the Dock.
Step 2
Click the Icons button at the top of the Finder window to display the Finder contents as icons instead of text. The Icons button looks like four squares arranged in a square shape.
Step 3
Double-click the "Applications" icon, which should display as a large "A."
Step 4
Locate the software application you want to uninstall, click on it and drag it over the Trash icon.
Step 5
Click the Trash icon to open the Trash.
Step 6
Click the gear-shaped icon at the top of the Trash window, and then select "Empty Trash."
Tip
If you encounter an app on the Launchpad that doesn't have an "X," it means it can't be removed. Apps that are native to OS X cannot be removed.
The above instructions apply to computers running OS X Mavericks. The instructions may be slightly different for other versions of the operating system.