While the Yahoo Toolbar lets you perform tasks such as check your emails or search Bing without having to visit a Web page, it also takes up valuable screen real estate. You can remove the toolbar from Firefox 37 or Internet Explorer 11 under Windows 7 or 8 by using your browser's add-on manager.
Firefox 37
Step 1
Open the Firefox menu and select Add-ons.
Step 2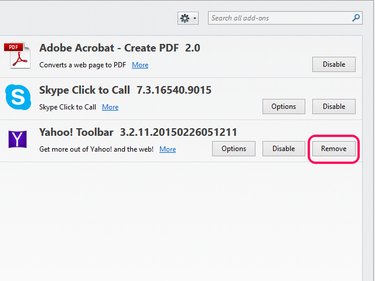 Click the Remove button to disable the Yahoo Toolbar and delete its files.
Tip
Selecting Disable instead of Remove enables you to turn off the toolbar while keeping it installed in Firefox. Consider this option if you think you may use the toolbar in the future.
Internet Explorer 11
While you can disable the Yahoo Toolbar within Internet Explorer, uninstalling it from your computer and therefore deleting its files requires you to use Windows' Uninstall a Program feature.
Disabling the Toolbar
Step 1
Open the Internet Explorer menu by clicking the cog icon and then select Manage Add-ons.
Step 2
Select the Yahoo Toolbar for IE extension and click the Disable button to turn the toolbar off.
Tip
If your browser lists two separate entries for the Yahoo Toolbar add-on, select either one to fully disable the toolbar.
Uninstalling the Toolbar
Step 1
Open the Windows Start Screen or Start Menu, type Uninstall in the search box and select Uninstall a Program from the search results. Scroll down the list of installed programs and click Yahoo Toolbar.
Step 2
Click Uninstall and follow the on-screen instructions to finish uninstalling the toolbar from your computer.
Yahoo Extension for Chrome 42
Step 1
Open the Chrome menu, hover over More Tools and select Extensions.
Step 2
Click the Trashcan icon next to Yahoo Mail Notification Extension to delete the extension.