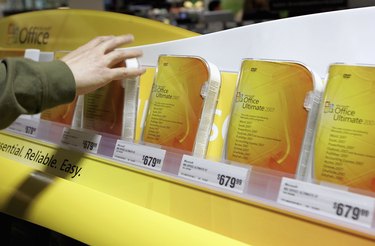 Although Microsoft offers the option to use Microsoft Office 2007 on a limited, trial basis, users must activate it to use its suite of programs past the initial trial period of 30 to 60 days. By activating Office 2007 through the confirmation code, users are also able to obtain support for Office from Microsoft, as well as take advantage of all the features in Office. Unlocking Microsoft Office 2007 through the activation wizard with a confirmation code merely requires launching the activation wizard and following the correct directions.
Step 1
Click "Start," and then select "All Programs." Click "Microsoft Office" and then "Microsoft Office Tools."
Step 2
Select "Activate Product" to launch the activation wizard.
Step 3
Click "Next" on the activation wizard screen.
Step 4
Click "I want to activate the software by telephone" and then "Next."
Step 5
Dial the automated phone system number on screen to receive the confirmation code. Type the confirmation code into the confirmation code box.
Step 6
Click "Next" and then "Finish" to complete the process of unlocking Microsoft Office 2007 via the activation wizard confirmation code.