Opening a .bin file is as simple as knowing the right program to use to open the file and choosing a location to save the extracted material. Read on to learn how to unpack a .bin file.
Step 1
Download and install a free copy of "Magic ISO" from the Magic ISO website.
Step 2
After installation, open the program. Click the "File" menu in the upper left-hand corner of the program labeled "File," and then click "Open."
Step 3
Use this window to locate and select the "Cue" file that corresponds to your .bin file.
Step 4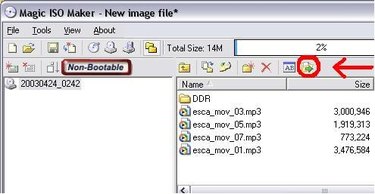 Click the "Extract" icon from the tool bar. The image shown indicates the "Extract" icon with a red circle around it.
Step 5
The "Extract to" menu will appear. Choose the destination for the files inside of the bin container to be extracted to and then click "OK." The files will then be unpacked into the destination folder.