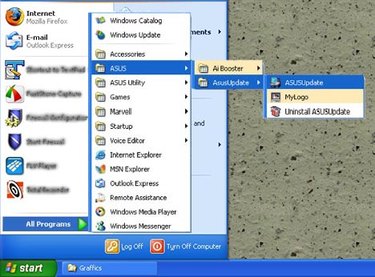 Since its founding in 1989, ASUS has earned a reputation for producing top-quality motherboards and other components. By some estimates, as many as 1/3 of desktop computers sold today are based on an ASUS motherboard. They're built to perform. But even well-made gear can use some tweaking if and when compatibility problems arise. A BIOS update might be all a user needs resolve them. Though it's not without hazards, the process is fairly easy.
Step 1
Insert bootable floppy disk or USB drive.
Step 2
Copy the updated BIOS file to floppy disk or USB drive. (Note: BIOS file and boot files should fit on a floppy disk. If the BIOS file is too large to fit with boot files, consider using the EZ Flash method described below.)
Step 3
Insert the motherboard support CD into optical drive.
Step 4
Copy AFUDOS.EXE from CD to a floppy disk or USB drive.
Step 6
When the DOS prompt appears, type the following: afudos /i[name of BIOS file]For example, "p4c800b.rom" might be the name of the new BIOS file. "afudos /ip4c800b.rom" is the command that will install it.
Step 7
Wait. Your monitor will display the update's progress with a series of messages: "Reading file," then "Erasing flash," then "Writing flash." The "writing flash" message will be followed with a percentage counter that tells you how far the write has proceeded. The final message will be "Verifying flash." DO NOT switch off or reboot at any point in this process or you will ruin your motherboard.
Step 8
After the update is complete, the utility will return to the DOS prompt. Remove your floppy disk and reboot.
Step 9
Enter the BIOS Menu and load "Setup Default."
Step 10
Save and reboot. You're finished.
Step 11
Copy your new BIOS files to a floppy disk or USB drive.
Step 12
Reboot. When the system is at POST, press "Alt" + "F2" to enter EZ-Flash. Alternatively, on late model motherboards you may press "Delete" to enter BIOS setup, then access EZ-Flash from the "Tools" option on the navigation bar. (Select Tools > ASUS EZ Flash 2 > YES)
Step 13
Wait for your system to check current BIOS information.
Step 14
Insert your floppy or USB with the new BIOS file.
Step 15
Select the drive letter with the BIOS update file, then select the file.
Step 16
Wait for your system to check the update file.
Step 17
After the file check is finished, click "Yes" to update your BIOS.
Step 18
Wait. Let the update procedure run until it finishes. Do not switch off or reboot or you will ruin your motherboard.
Step 19
When the update is finished, remove the floppy or USB drive and reboot.
Step 20
Enter the BIOS Menu and load "Setup Default."
Step 22
If it isn't installed already, install the ASUS Update utility. You can either download it or use the copy on your motherboard's support CD.
Step 23
Close all Windows applications if any are running.
Step 24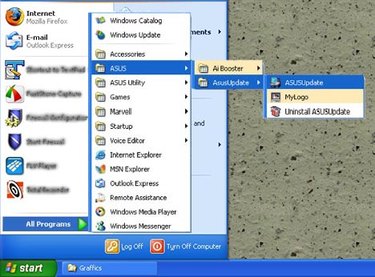 Launch the ASUS Update utility from the Windows desktop by clicking "Start>Programs>ASUS>ASUSUpdate>ASUSUpdate." The "ASUS Update" main window will then appear.
Step 25
Select "Update BIOS" from the "Internet option" drop-down menu. Click "Next."
Step 26
Select the ASUS FTP site nearest you, or choose "Auto Select." Click "Next."
Step 27
From the FTP site, select the BIOS version that you wish to download. Click "Next."
Step 28
Start the update. Wait for it to complete.
Things You'll Need
Motherboard support CD

DOS floppy disk or USB drive

(Optional) Separate floppy disk

(Optional) ASUS update utility
Tip
Not all ASUS motherboards support EZ Flash. If yours doesn't, you will have to complete your BIOS update using a DOS flash utility like AFUDOS.EXE. Do not overclock the system/CPU during a BIOS update. Load "Setup Default" in the BIOS menu before a BIOS Update. After a BIOS update is complete, reboot, enter the BIOS menu, and load "Setup Default" again. If you use the ASUS Update Utility, make sure you have "Administator" privilege on your Windows system (WinNT4/2000/XP). If you use the ASUS Update Utility, always use the most up to date version. The utility is capable of updating itself through the Internet. If you use the ASUS Update Utility, disable any installed Anti-Virus software.
Warning
Update the BIOS only if you have problems and you are sure that the new BIOS revision will solve them. Carelessness during the update process may cause more problems with your motherboard, including rendering it unusable. AFUDOS.EXE (unzipped) can only be executed in DOS mode, not from an MS-DOS prompt within a Windows OS. If you wish to back up or update your BIOS, you must have a bootable DOS disk. Message-board chatter suggests that updating over the Internet using the ASUS Update Utility (the third method described here) is very unreliable. Proceed at your own risk.