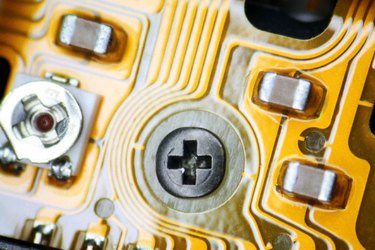 Many electronics teachers use Multisim to teach their students about circuitry. This program includes the schematics to thousands of real-life circuits, giving instructors a near-endless supply of examples from which to draw. As new circuits develop, though, an older copy of Multisim can become outdated. Luckily, National Instruments offers a free file to update the database with all of the latest circuit schematics.
Step 1
Download the "8215_connector_lib.zip" file from the link in Resources below.
Step 2
Unzip the file. To do so, you will need a ZIP archive program like WinZip.
Step 3
Save the file titled "NI_Hardware_DB.prz" to your computer. You can do this by dragging and dropping it somewhere from the ZIP program.
Step 5
Double-click the "NI_Hardware_DB.prz" you saved in Step 3.
Step 6
Select "User Database" under "Target Database" in the Multisim window that pops up.
Step 8
Wait for the update to complete. When it does, click "Close."