The network adapter is a card or built-in port on your computer's motherboard that allows you to connect your computer to a network with a network cable. Like other hardware devices in your computer, the network adapter may require you to install updated drivers for better performance. You can download these drivers from the network adapter's manufacturer website. Depending on the format of the driver, you may be able to automatically install the update or you may need to update through your computer's device manager.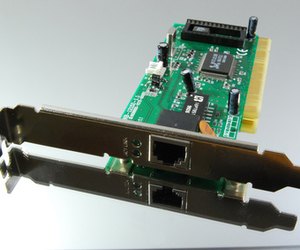 Step
Click the "Start" button from your computer's desktop.
Step
Right-click "Computer" and choose "Properties" from the menu.
Step
Open the "Hardware" tab if you are using Windows XP and click "Device Manager." Windows Vista and 7 users can click "Device Manager" from the menu in the left panel.
Step
Click on the arrow next to "Network Adapters." Your device information, such as model number and make, will appear below the entry. You will need this information to download the proper drivers.
Step
Go to your network adapter's manufacturer website and download the drivers for your device. You can usually find driver downloads under the support or driver section. Use the information you recorded from the Device Manager to download the correct drivers.
Step
Locate the driver file you downloaded to your computer. If the file is an ".exe" program, double-click the file to launch an installation wizard. If the drivers downloaded as a nonexecutable file, install the drivers using the Device Manager.
Step
Double-click the name of your network adapter in the Device Manager. You will open a new window with information about your adapter.
Step
Navigate to the "Driver" tab and choose "Update Driver" to launch the driver installation wizard.
Step
Select the "Install from a list or specific location" option if you have Windows XP. Windows Vista and 7 users should choose "Browse my computer for driver software."
Step
Click "Search for the best driver in these locations" if you have Windows XP, then check the box next to "Include this location in the search."
Step
Browse for the driver and double-click on the file to load it.
Step
Click "Next" to allow the installation wizard to update your network adapter driver.