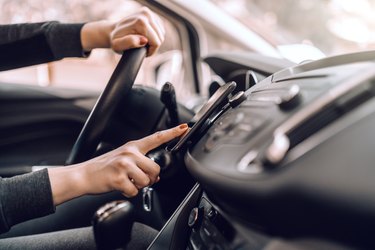 Navigation apps on phones have made stand-alone GPS devices less of a necessity than they used to be, but they're still handy to have. If nothing else, you won't have to tie up your phone – or use up your data – just for navigation. Devices like the Garmin Nuvi 255W and its predecessors require regular updates to remain current, but those updates are easy to do.
Free Garmin Map Updates
Some Garmin models come with free map updates for life, but the Nuvi 255 W isn't one of those. If you bought yours new, though, you're entitled to one free update so that you're starting with the most current maps. That's less common now that this model has been discontinued for a while, but they may still crop up on liquidation sites or as clearance items at physical retailers.
To qualify for the free update, you must register your Nuvi and download the maps within 60 days of the time it first powers up and acquires satellites. Otherwise, you need to purchase a one-off map update or lifetime updates. If you take the lifetime option, any succeeding updates are free in the sense that you don't need to pay each time.
Garmin Nuvi 255W SD Card
The permanent internal memory of your Nuvi contains its software and the initial set of maps. Still, you won't be able to install additional map sets without upgrading memory through an SD card. The card slot on the edge of the 255W accepts a micro SD card with a capacity of 4GB to 32GB. You need to install this before doing map updates, so if you are entitled to a free update with registration, you should add the SD card before you start.
Installing Garmin Express
Garmin updates and downloads typically rely on the manufacturer's Garmin Express software to update software and maps. Start by plugging the supplied USB cable into your computer and then the Nuvi. Go to Garmin's website and download either the Mac or Windows version, depending on your computer. Chromebook or Linux users aren't supported. You may be able to find a workaround, but it's usually simplest to borrow a compatible computer periodically for your updates.
Click the downloaded file to launch the install program and then follow the on-screen prompts to register your device and install the software. You need to click the check box stating that you accept Garmin's terms of use. As part of the initial setup, the software on your 255W is updated to the most current versions. The installer asks you if you want to receive notifications from Garmin. If you accept, you are prompted in the future whenever there are updates to install.
If you don't have an SD card to provide storage for the full map set, you can choose to download only a specific region instead. This keeps the map file smaller, but it means you may not have the information you need if you travel outside your normal driving area.
Installing Further Updates
To install updates manually, connect the USB cable to your computer and then to the Nuvi. Launch the Garmin Express software and choose the Nuvi 255W from the available devices. If there are software or map updates available, you are prompted to install them.

Click Store to purchase an updated map set or – if you're planning a road trip – maps for a new region that you don't currently own. After it downloads, you can access it through Map Options on your home screen. Choose Change Map to switch to the new map set or Reinstall Map to go back to a previous set. Any map installation can take up to several hours, so don't leave it to the last minute. Ideally, start the installation before bed or before heading out for the day. Garmin Express lets you know when you can leave the update to complete on its own.