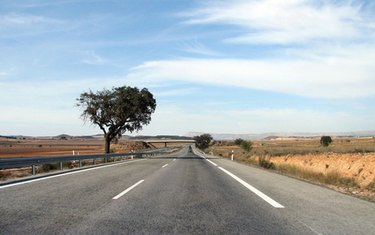 The Buick's in-dash global positioning satellite (GPS) navigation system is designed to aid drivers who require accurate, turn-by-turn directions when driving through unfamiliar areas. This system is also capable of displaying millions of points of interest, such as tourist attractions, lodging, restaurants and entertainment on the map. A Buick navigation system may be upgraded by purchasing the latest map update available from the GM Navigation Disc Center. This is an online shop that sends the map update to you on DVD. The DVD may then be inserted in the system's DVD drive to begin the update.
Step 1
Go to the GM Navigation Disc Center website, then click on "Search" in the "Find Your GM Nav Disc" box. You may also click "Buy a Disc" at the top of the page.
Step 2
Use the menus to select "Buick" as your vehicle's make. Choose the model and year with the next two menus. Click "Search" to see the newest update. Enter the quantity you want to purchase, and click "Add Items to Cart." After purchase, the update is mailed to your address on DVD.
Step 3
Start the Buick's engine, and allow the radio to "wake up." Hit the "Power" button on the Navigation Radio.
Step 4
Put the screen in full-screen position by pressing "Navi Screen Up/Down." Insert the new DVD into the disc slot.
Step 5
Press "Update." Enter the Authentication Code supplied to you with the DVD, then press "Enter." The update begins.
Step 6
Remove the update disc from the system when the update is complete.