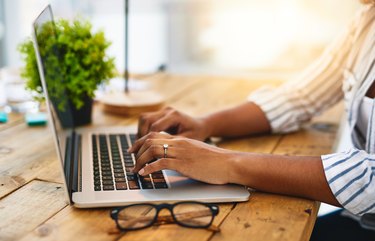 Uploading HTML files to WordPress is a common process that is possible to accomplish in a couple of ways. You can upload directly through your WordPress dashboard or through your host via FTP. When you want to add an HTML page to a WordPress site, the first step in the process is to determine the best method. After completing an HTML upload, the steps are easy to repeat for additional upload needs. Normal HTML files are most often uploaded through the dashboard, but large files are best uploaded through the FTP process on your host server account. If you have a Google webmaster WordPress host account or any other common host, you can upload through those accounts without visiting WordPress directly.
Reasons to Upload HTML
You can build pages and content within WordPress without uploading custom HTML, but using HTML files is desirable for a number of reasons. You can import pre-existing designs and templates through HTML protocols and host them on your account or server without manually inputting the information and code.
Dashboard Uploads
Uploading to the WordPress dashboard is done directly through a post, page or your media library. Ultimately, these files are stored and accessed from within your media library file center. To upload from a post or page, click "Add Media," and then click "Select Files" to access your hard drive, cloud drive or external storage device. Navigate your files and select the HTML file to open it. This inserts the file into the post or page and saves it to the media library at the same time. You can skip the post or page process and access the media library directly from the WordPress dashboard. Select "Add New" and follow the same process to save the file to your library without inserting it into a page or post.
FTP Uploads
The FTP upload process happens through your host account. FTP stands for File Transfer Protocol, and it essentially loads files from your computer to your website host account. You need an FTP client such as FileZilla to complete the transfer. Numerous client programs are free and easy to locate with a simple search. Open the FTP client and enter your FTP credentials in the Site Manager. These are found through your hosting account and allow the Client to bridge the gap between your host and WordPress. Enter your website info in the Site Manager and select "SFPT" for a secure connection. Click "Connect" to complete the connection process. Navigate to "Local Site" to browse your computer files. Find the desired HTML file and right-click to generate options. Click "Upload," and the FTP client loads the file from your computer to WordPress via your host account.