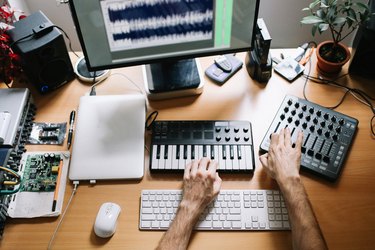 In the world of modern music production, powerful software programs known as digital audio workstations, or DAWs, have taken the place of expensive hardware setups from earlier generations. The modern DAW has the ability to record, edit, mix and master music from a variety of different genres and styles. Among the collection of professional grade DAWs in use, FL (which stands for Fruity Loops) Studio is widely considered to be one of the industry leaders in electronic music. Using a few simple steps, you can transform your computer keyboard into an FL studio keyboard piano that allows you to control a variety of the instruments and effects found inside this software.
Creating an FL Studio Keyboard Piano
FL Studio transforms your computer keyboard into a virtual piano keyboard with just a few clicks of your mouse. To begin, launch the software from your desktop and open a new project file. Navigate to the Snap Panel located in the upper right corner of the toolbar at the top of the screen. Hover your cursor over the available icons until a label pops up that reads "Typing keyboard to Piano keyboard." When you click this button, your computer keyboard converts automatically into a musical keyboard that can trigger software instruments.
Using Your Musical Keyboard
After selecting an instrument from FL Studio's extensive collection of synthesizers, drum machines and other instruments, use your computer keyboard to play the instrument. Any time you press a key on your keyboard, it triggers a specific pitch on the software instrument. When you are recording, use your computer keyboard to input MIDI data directly onto the FL Studio piano roll. You can think of MIDI as musical information related to pitch and rhythm.
Additional Functions to Consider
With your music keyboard, you can also accomplish a variety of other expressive and technical actions. Right-click the 'Typing keyboard to Piano keyboard' button to assign one of several functional layouts to your computer keyboard, including a performance mode that allows you to trigger specific scenes and clips of music. You can also use FL Studio to change octave keyboard functions as you see fit. Regardless of how you choose to use it, the Fruity Loops keyboard piano plays an integral role in the functionality of this software. Even if you decide to connect an external keyboard at some point in the future, you can still use your computer keyboard as a musical input source as needed.