Bluetooth technology provides a secure, wireless connection between computers, mobile devices and peripherals. New models of LCD projectors include built-in or USB accessories for Bluetooth connectivity that enable users to pair with the device and use the projector as an output device. While Bluetooth-enabled computers have drivers for a variety of devices installed, drivers for Bluetooth-enabled projectors and displays may not be included on the list of supported devices. Users can install the LCD projector drivers as a new device during the setup process.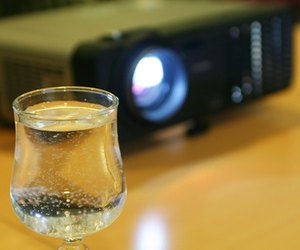 credit: glass of water on table with projector behind image by Dmitry Goygel-Sokol from <a href='http://www.fotolia.com'>Fotolia.com</a>
Step
Turn the LCD projector on and connect the USB Bluetooth dongle or accessory, if applicable.
Step
Launch the Bluetooth setup assistant on the computer. On Windows computers, select "Bluetooth Devices" under the "Hardware and Sound" option in the Control Panel; on Macs, select "Bluetooth" under System Preferences in the dock or under the Apple logo (top menu bar).
Step
Select the "Add" option (Windows) or "Set up Bluetooth device" (Mac) to launch a setup assistant.
Step
Uncap the lens cap on the projector and click the Bluetooth button on the LCD projector to make the device discoverable.
Step
Click the "Next" or "Continue" button on the Bluetooth setup assistant.
Step
Select the type of device supported by the computer or select "Other device" if the projector isn't listed.
Step
Insert the CD containing the hardware drivers when prompted and select the file to install the driver.
Step
Click the projector from the list of discoverable Bluetooth devices.
Step
Type the passkey or code for the projector (according to the manual) and press the "Enter" key.
Step
Click the "OK" or "Close" button when the computer confirms the units are connected.