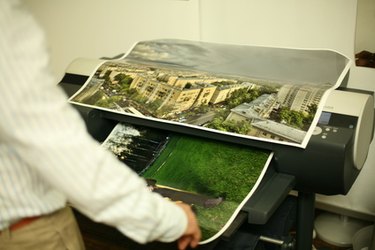 If you want to print address labels or any other kind of labels, you can go to a stationary or office supply store and purchase labels on sheets that are meant to go into your printer and be printed from a software application like Word. These types of labels are made for ink jet and laser printers. If you mistakenly bought the wrong type, you can attempt to use the ink jet labels in a laser printer, you just might not have the best results.
Step 1
Read the instructions on the ink jet labels. Look for any warnings about using the labels in a laser printer. There may be warnings that apply to your printer.
Step 2
Open the ink jet labels and put them in your laser printer's paper tray. Make sure you put the correct side down. You may want to put in a sheet of paper with markings on one side to test which side gets printed on first.
Step 3
Open Microsoft Word or the software application or template that came with the labels. Enter in the information in the application in each individual label field. Click on the print button and choose your laser printer. Click "OK" and then carefully monitor the print out to make sure it doesn't get stuck. Let the labels cool for a while to avoid having the ink rub off or get messy.