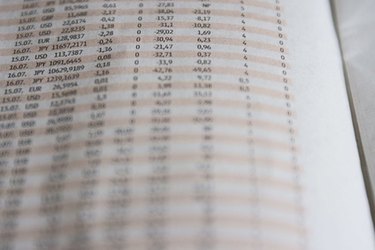 Using a spreadsheet application such as Microsoft Excel can be beneficial for many businesses. It has a wide range of functions, and you can add virtually unlimited amount of data. If you have a cattle ranch, you can also benefit from using Excel. You will need a system to keep track of your stock and also one that takes care of invoicing. This can all be done within Excel by following a few easy steps.
Step 1
Create a stock sheet. Start by opening a blank sheet in Excel, and give it an appropriate name, such as Stock Sheet. You can start to enter data by clicking on a cell. Use the first horizontal row of cells as headings for your columns. This can be the different categories of livestock or cattle that you have. Start from column B and move horizontally until all your columns have headings. You can then use column A to enter the different months (or days) that you will take a count of your stock underneath each other. For example, start by entering January in cell A2, February in cell A3, etc. Cell A1 will be your heading such as "Month" or "Date". You can use the last cell at the bottom of each column to automatically add up the totals for you for columns B onwards. Click on the last cell and use the Auto Sum function. This can be found in the horizontal toolbar at the top of the program. You can then enter the selection that you want it to add, for example B2 to B13, and then press "Enter." The total will automatically be calculated every time you change or add data.
Step 2
Create an invoice sheet. This can be done by either downloading an invoice template from the Internet, such as those available from Microsoft's website, or by creating your own. Creating your own invoice might be somewhat difficult for first-time users, since there are a lot of customization and formulas needed. The easiest method is to download an invoice template, editing it according to your needs and then saving it as a template to your computer (see References).
Step 3
Select the default business name and change it to the name of your cattle ranch if you have downloaded an invoice template. Next you can change the contact details that appears on the invoice to your own. You also can add or delete lines in the invoice. Typically a cattle ranch won't need an invoice with 20 lines in it, since you will only use one or two lines. You can use the extra space to add additional invoice you want your customers to know. When you are finished, save the template to your computer so that you can use that every time you make a sale.
Step 4
Save your information. It is important to remember to save often so that you do not lose your work. You can use these spreadsheets on a daily basis to keep track of your cattle ranching.
Tip
Excel will work on all operating systems; the latest version for Windows is Excel 2007. You also can purchase this as part of the Microsoft Office suite. It is easy to install and various methods of support are available for first-time users.
If you have a logo, you can add that as well. Click on "Insert" and move the pointer over "Pictures" and click on "From File." Search for your logo and double-click on it to add it. You can move the photo by clicking and dragging it. Click and drag one of the boxes on the logo's border to adjust its size.