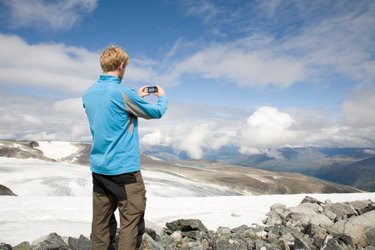 Japan-based Nikon Corporation manufactures the D40 as its entry-line single lens reflex (SLR) camera. This camera takes photos with a resolution of 6.9 megapixels, and its base model includes an 18m x 55mm removable lens. On the back, the camera features a 2.5 inch LCD display that allows users to view images and scroll through a variety of settings and controls. Users can also purchase the optional (not included) remote: the ML-L3 Wireless Remote Control, which also works for other Nikon cameras. This remote enables users to take self-portraits and group photos.
Step 2
Set the camera to one of the two remote modes: "Delayed Remote" or "Quick Response Remote." Press the "Menu" button on the back panel of the D40 to bring up the menu in the LCD panel. Scroll down in the menu to highlight "Shooting Mode," and then press OK to bring up the choice of shooting modes. Highlight either the "Delayed Remote" icon (an image of a remote with "2s" next to it) or the "Quick Response Remote" icon (an image of a remote) in the menu that appears, and then press "OK" again to enter that mode.
Step 3
Attach the camera to a tripod by screwing the center bolt of a tripod into the fitting on the base of the Nikon D40. If you do not own a tripod, place the D40 on a flat, level surface.
Step 4
Focus the camera on the object, person or landscape you wish to photograph. Unlike some of Nikon's other cameras, the D40 does not feature a flip-out screen that you can use to adjust the focus or see the image before shooting with the remote. Depress the shutter-release button on the remote halfway to confirm that the D40 will focus squarely on what you wish to photograph.
Step 5
Slide out the viewfinder eyepiece cup (the small square-shaped plastic receptacle you would normally look into while taking a picture). Slide the included DK-5 eyepiece cap down into this slot in order to keep out any light that may distort the picture.
Step 6
Get into the frame of the picture if you are taking a self-portrait or group shot in which you wish to appear.
Step 7
Point the remote at the D40 and depress the shutter-release button fully to snap the picture. Please note that if you are using the "Delayed Remote" mode, the D40 will take the photograph two seconds after you depress the shutter-release button.