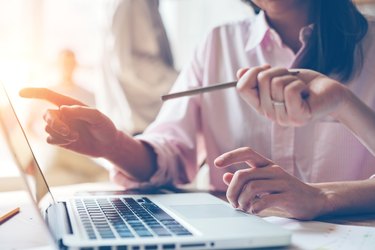 A SanDisk Cruzer flash drive has become a popular portable media and data storage device. Portable, handy and micro, it can easily fit in your pocket or can be carried in your purse or wallet. The storage capacity of current SanDisk Cruzer Flash Drives ranges from four to 32 gigabytes.They can be used for storing Word documents, PDF files , spreadsheets and even huge video files, music downloads and photos. A few simple steps on how to use a SanDisk Cruzer flash drive are outlined below.
How to Use Sandisk Cruzer Flash Drive
Step 1
Plug your SanDisk Cruzer into a relevant USB port. Plug your SanDisk Cruzer into any USB port of your laptop or a USB hub port or an USB extension cable attached to your desktop. It will take the place of Removable Disk on the available drive of your computer. Wait for the "Auto Play" window that will pop up.
Step 2
Decide on your task options. A list of menus will open in the Auto Play window. If you already have saved files on your SanDisk Cruzer, click on the "open folder to view files" link below the General Options button and continue with your desired tasks. Or alternately, click on any of the command menus displayed in the Auto Play window, such as "play media files," "play videos" or "view pictures," etc.
Step 3
Use your SanDisk Cruzer as a backup storage option. Store files, documents and videos saved on your computer on your SanDisk Cruzer as a backup option or safe storage device. You can also use your SanDisk Cruzer as a portable storage device to access saved files later at another work station. Or you can transfer files loaded on your SanDisk Cruzer from the workplace or elsewhere to your computer at home.