In iOS 7 and 8, the Phone app doesn't show the Speaker option in the corner of the page like older versions did. Apple hasn't removed the option to play your voice mail messages over the speaker; it just moved the toggle to a different place. Open a message first and then select Speaker to toggle the speakerphone on and off.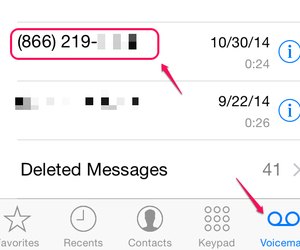 credit: Image courtesy of Apple
Open the Voicemail tab in the Phone app and tap the message you want to play.
credit: Image courtesy of Apple
Tap the Speaker button to switch to using the speaker and then tap the Play icon to listen to your voice mail over the speaker. As of iOS 8, the Speaker button text display as white on blue when using the speaker and as blue on white when using the phone earpiece.