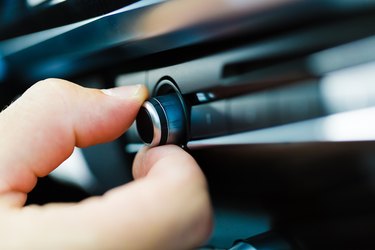 Uconnect is an entertainment and communications system you can find in a Dodge Caravan and in other Fiat Chrysler vehicles. You can use it to listen to the radio, to connect your phone to your Dodge Caravan with Bluetooth and even to locate your vehicle using an app when you're in a busy parking lot. Follow the Uconnect phone-pairing procedure to connect your phone before you start driving.
How Uconnect Works
Uconnect is the name for the digital entertainment and navigation system in modern Fiat Chrysler vehicles. Those include cars, trucks and SUVs under brands including Dodge, Ram, Fiat, Jeep and Chrysler.
You can generally use a built-in touch screen to control the radio and to play music from your smart phone if you've connected it to the car with Bluetooth. You can also get optional add-on services for Uconnect, like SiriusXM satellite radio or navigation services. Exactly what features are available will depend on your vehicle and what services and optional features you've selected.
Uconnect apps are also available for Apple iPhone and Google Android smart phones to let you control aspects of your car remotely from your phone, including activating the remote starter to warm up your car or locating your vehicle in a parking lot.
Uconnect Phone Pairing
You can use Uconnect to make calls within your vehicle or to stream music and other audio from your phone.
In order to do so, you must pair your phone with the vehicle using Bluetooth. For safety's sake, you may not be able to do this while the car is in motion or shifted out of park.
Begin by pressing the "Phone" button on the Uconnect display in your car. Then, press "Phone Settings." Press "Paired Phones and Audio Devices" and then press "Add Device."
Now, on your smart phone, turn Bluetooth on in the "Settings" app using the toggle switch. If you have an iPhone, it will likely automatically scan for nearby devices. If you have an Android phone, you may need to tap a "Scan" button.
When you see your car in the list of nearby devices, tap it. If a PIN is displayed on the car's Uconnect system, enter or select it in your phone. Allow the car to access your messages and contacts if you wish to access them through Uconnect.
Your car should now be paired with your phone. If you have trouble, contact Chrysler, your phone's maker or your car dealership.
Installing a Uconnect Software Update
As with other software, you'll likely want to make sure your Uconnect software is up-to-date so you have the latest features and security fixes.
You can check to see if there are Uconnect updates for your vehicle on the Uconnect website. Enter your vehicle identification number, likely on your registration or on a sticker in your vehicle, to see if an update is available.
If there's an update, download it to a USB memory stick using a desktop or laptop computer. Then, plug the stick into your car's USB port and start your car. You'll be prompted to update the software. Press "Yes" on the touch screen to install the update.
Leave the car on and the USB stick plugged in until the update is finished.