Using a passcode on Apple mobile devices with iOS 8 such as the iPad helps to secure the device. If you forget your passcode, you cannot recover it, but Apple provides a few options for recovering the iPad for use. Using iTunes, you can restore your iPad to its original factory condition and apply a backup. If you previously set up the Find My iPhone feature on the iPad, use this application with your iCloud account to erase the device -- including the forgotten passcode -- and then restore the most recent backup.
Restore iPad With iTunes
Step 1
Plug in the iPad to the computer you normally use to back up your device. If iTunes is not set to open automatically when the iPad is plugged in, open iTunes manually. Click the iPad icon at the top of the screen.
Step 2
ITunes may sync automatically when the iPad is plugged in. If not, sync the device by clicking the Sync button.
Step 3
Select the Summary screen tab and click on Restore Backup to erase the data.
Erase iPad Using Find My iPhone
Step 1
If you have Find My iPhone turned on for the iPad, you can use this application to erase the device. Go to the iCloud Sign In screen and sign in using your Apple ID. This is the same login information used to update your device, access iTunes, make purchases or change your iTunes account settings.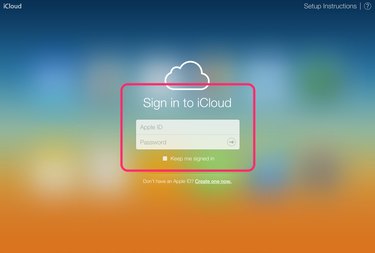 Step 2
Click on All Devices in the Web browser window after logging in. Locate your iPad listed among the devices in your account. If the iPad is your only device connected to Find My iPhone, it is the only item in the device list.
Step 3
Click on Erase iPad. This erases the iPad data, including the forgotten passcode.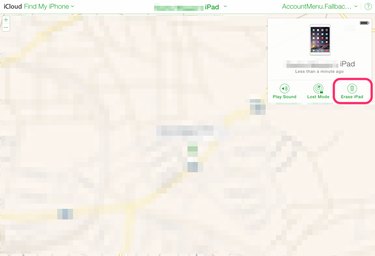 Step 4
Use the Setup Assistant to set up the iPad again. The prompts appear on the iPad to guide you, and they include information on loading a backup from iTunes on a computer or from iCloud.
Using Recovery Mode to Restore an iPad
Step 1
Unplug your iPad if it's charging or connected to the computer. Power off the iPad by holding down the Sleep/Wake button on the top edge of the device.
Step 2
With the iPad off, press the Home button and hold it while plugging in the iPad to your computer. If the iPad doesn't turn on right away, while keeping the Home button pressed, press the top Sleep/Wake button and power on the device. Continue holding down the Home button.
Step 3
When you see Connect to iTunes on the iPad screen, release the Home button. ITunes will often open automatically, but if it doesn't, open the program on the computer. An alert informs you that the iPad is in Recovery Mode. Click OK and then Restore iPad.