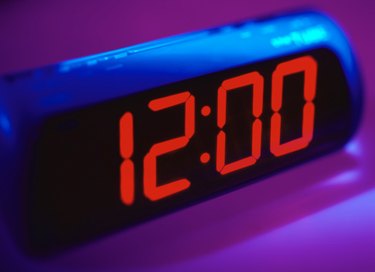 The Sony ICF-C218 is a clock radio that is fairly user-friendly. Unlike with most alarms, you do not need to set the time (as long as you're in the U.K.), but you do need to set the alarm time. It also displays the date and allows you to automatically adjust for U.K. daylight saving time and set the amount of snooze time. This means that, in general, the ICF-C218 has more options than most alarm clocks.
Step 1
Plug in the ICF-C218 in a well-ventilated area free of moisture.
Step 2
Press "Clock" if you are not in the U.K. and need to set the time manually. Hold it for two seconds.
Step 3
Press the + and - buttons until the year is set correctly.
Step 4
Press "Clock" once you've set the year, and repeat this process for the day, hour and minute.
Step 5
Slide the "Alarm Mode" toggle to either "Radio" or "Buzzer," depending on your personal preference.
Step 6
Slide the "Alarm Time Set" toggle to either the + or - side until you've reached the time you want your alarm to go off at. Hold it down to adjust in 10-minute increments.