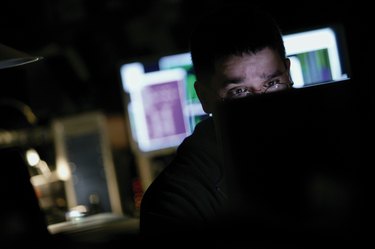 Private browsing is a mode that doesn't store your history and other website data as you browse. You may also recognize it as InPrivate Browsing in Internet Explorer or Incognito in Google Chrome. It's useful to those who don't want to leave a trace of their browsing habits for other users to find. However, it is possible to monitor browsing history on a computer even if a user entered private browsing mode. It requires entering a few lines in Command Prompt, which isn't all that user friendly but does get the job done.
Track Browsing History in Private Browsing Mode
Command Prompt is a primitive Windows program that runs command lines you enter to performs actions on the computer. To open it in Windows 8, click the Search icon on the Charms bar. Begin typing Command Prompt until a result of the same name appears, then click it. In previous versions of Windows, click the Start button then type Command Prompt in the Search box.
At the flashing cursor in the Command Prompt window, type the command line ipconfig /displaydns then press Enter. This displays a list of websites visited during the current session (since the last reboot). Check this window again after the user logs off to view their browsing history.
Track Private Browsing Mode Usage
If a user navigates to a website in a browser in private browsing mode, the activity won't appear in the browser's history list. If you are fairly certain that the user was browsing the Internet, but there is nothing in the history list, you can make the assumption that they were using the browser in private mode.
Keep in mind that it is possible that the user manually deleted their browsing history or didn't visit the Internet while using the computer.