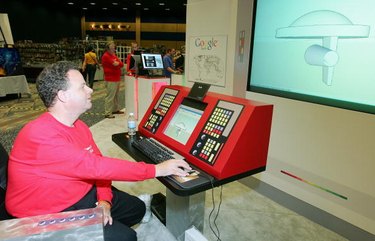 Google SketchUp is a 3D modeling tool designed to offer architects, engineers and artists a way to rapidly create and render 3D models. SketchUp offers users the ability to realistically light models by placing them into images taken from Google Earth and using the sun's relative position to create an accurate rendering. Google SketchUp also allows users to "flatten" their models into 2D drawing-like projections through the use of different camera modes.
Step 1
Open the model of which you wish to make a 2D elevation drawing in SketchUp and use the navigation tools to bring the part of the model you wish to render in 2D into view.
Step 2
Click the "Camera" button and scroll down to the "Standard Views" menu to select the view you wish to print. You will need to browse through these to find out which one corresponds to the elevation you wish to make. If none of them are correct, you will need to rotate your model such that the face you wish to export in 2D aligns with one of the three core SketchUp axes.
Step 3
Return to the "Camera" menu and select "parallel projection" from the drop-down menu. This will render your model in a "fake" perspective mode that forces all of the lines to run parallel to a projection plane. When combined with the head-on standard views, your model will appear as a flat 2D drawing.
Step 4
Click the "File" button and scroll down to the "Export" menu. Select "2D Graphic" from this menu and select the type of file you wish to save the drawing as from the drop-down menu. Name the file and click "Export" to export and save the file to your computer.