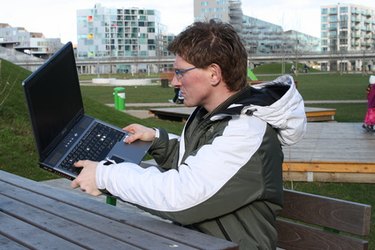 The PlayStation 3's SIXAXIS controller connects to the system by using a Bluetooth network. With this, it serves as a remote control and a controller for games such as "Uncharted." It only makes sense that given the controller's Bluetooth sensitivity, it would work with other Bluetooth devices, such as a computer. In fact, it does, although it loses the motion-control ability when hooked up to a computer.
Step 1
Download the drivers necessary to connect the PlayStation 3 controller. These drivers are the Libusb32 drivers, BtSix 1.5c and PPJoy 0.83. Links to all these drivers are available in the Resources section.
Step 2
Install Libusb32. These drivers ready the USB port for your controller. This file is an executable file, so simply double-click on it to open. When open, click "Next" to install it.
Step 3
Install BtSix 1.5c. These drivers ready the Bluetooth device on your computer to accept PS3 controller. Extract the BtSix 1.5c .zip file. Place it somewhere easy to find, such as the desktop. Go to the Device Manager. The easiest way to find this is by simply searching for it under the Start menu. Choose the Bluetooth device, and right-click to choose the option "Update Driver Software." Now, select "Browse My Computer for Driver Software" then select "Let Me Pick from a List." Here, you select "Have Disk" and pick out the BtSix 1.5c file that you previously extracted. Press "OK" to install.
Step 4
Install PPJoy. This also is a .zip file which you need to extract. After that, you can click on the .exe in it to install it. Start "Configure Joysticks" in the program to set the buttons on the controller to whatever you like.
Step 5
Connect the PlayStation 3 controller to the computer using the mini-USB cord that came with the controller and is used to charge it. Open BtSix 1.5c and select "Address."
Step 6
Make the controller recognizable to the Bluetooth. Unplug the controller from the computer. Press and hold the PS3 Home button on the center of the controller. This turns on the controller, and it is recognized on the computer.