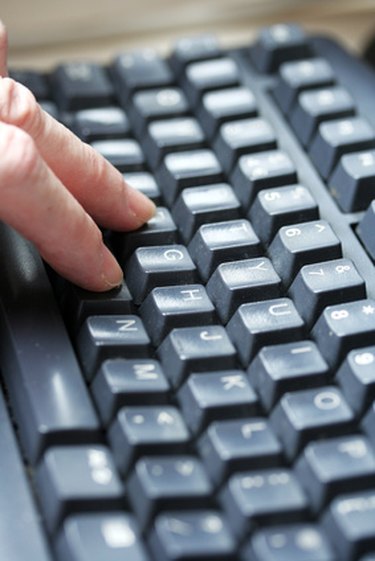 The Microsoft Desktop 1000 includes both a wireless mouse and keyboard, although the two can be used independent of one another. A wireless keyboard allows you to remove some of the clutter from your workspace by eliminating the wires, and it also allows you to use your keyboard further away from the computer. Both the wireless keyboard and wireless mouse connect to your computer using a single receiver that can be connected via a USB cable or a PS/2 connection.
Step 1
Insert the keyboard driver installation disc that is included in the keyboard's original packaging into your computer's CD or DVD drive. Click "Install" when the auto-run box appears. Follow the on-screen instructions to complete the setup. If prompted, restart your computer to complete the installation.
Step 2
Turn the keyboard over and remove the battery compartment cover, which is located in the top portion of the back of the keyboard. Insert the batteries that were included with the keyboard, then close the battery compartment cover and turn back over the keyboard.
Step 3
Place the receiver on your desk at least eight inches away from the keyboard.
Step 4
Connect the receiver to the computer using either the PS/2 connection or the USB connection, then remove the existing keyboard. If you are using the PS/2 connection to connect the keyboard to the computer, or if the existing keyboard is using the PS/2 connection, shut down the computer prior to installation, removal or both. The computer does not need to be shut down while using a USB connection.
Step 5
Adjust the custom key settings on the keyboard using the IntelliType Pro software that was installed along with the keyboard drivers. To access the software, open the "Start" menu and click "All Programs." Open the "Microsoft Keyboard" folder, and then click the "Microsoft Keyboard" icon.
Step 6
Click the tab labeled "Key Settings" from within the keyboard settings. Select the key that you would like to change, and then select the program that you would like to associate with the key. When you are finished, click "Apply" to save your changes, then click "OK" to close the window.
Things You'll Need
Keyboard driver installation disc

Existing keyboard and mouse