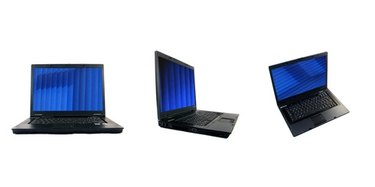 Asus is a computer company that produces components such as motherboards and video cards for many laptop and desktop brands. In addition, Asus also produces their own line of laptop computers. Like many laptops, Asus laptops go into "sleep" mode if the lid is closed or if you have the laptop set to "sleep" after a certain period of idle time. Occasionally the laptop may get "stuck" in sleep mode either due to a mechanical issue with the lid mechanism or a frozen operating system.
Step 1
Verify that the computer's power supply is plugged into a power strip or wall outlet. Sometimes a laptop will remain in sleep mode if the battery is very low.
Step 2
Open the lid of the laptop and wait a few seconds. If the screen stays blank, press any key or move your finger across the "trackpad." If the computer remains in sleep, continue to Step 3.
Step 3
Close the laptop lid. Wait a few seconds and reopen the lid. Be sure to open the lid fully. Check next to and under the lid hinges for a small nub shaped button or tab. Some Asus laptops have this nub which raises when the lid goes up to signal the screen to turn on. Use your finger to press the nub in and then release. If your Asus does not appear to have this nub or this does not solve the problem, proceed to Step 4.
Step 4
Check the lid latch on the laptop. Some Asus models have a latch on the laptop in front of the trackpad. This latch slips into an opening on the top inside of the lid. Open the lid and check inside both the latch and the opening for any debris. Slide the latch "switch" back and forth in case the mechanism is stuck. If this still does not solve the problem, proceed to Step 5.
Step 5
Locate the "Asus power button" on the top right just above the keyboard. Press and hold down the button for up to a minute until you hear a beep or hear the hard drive start up again. This will restart the computer and take it out of sleep mode.