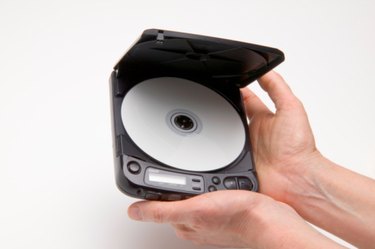 If your CD player, either a standalone audio CD player or the one built into your computer, has stopped reading CDs, a few issues could be causing this. The issue could be with the compact disc itself or with the laser lens inside the CD player. Investigate further so that you can fix the problem.
Step 1
Clean your CDs before and after playing them. Although the compact disc has a much longer lifespan than does something like a cassette tape, it can be more fragile. Scratches, dust or other damage to the data side of the CD will cause many CD players to fail to read the CD or cause the CD to skip.
Step 2
Examine the type and format of the compact disc if your CD player fails to read it. Verify that your CD player can read the type of CD and the files contained on it. Just because you've burned a collection of songs to a CD, for example, doesn't mean that your CD player will be able to recognize that information. You must burn CDs in a specially formatted "Audio CD" mode to play them on a CD player, or your CD player must be able to recognize the MP3 file format. Some CD players have limitations on the type of CD they can read. Verify that your CD player can read CD-R, CD+R, CD-RW or CD+RW compact discs.
Step 3
Update your CD player's driver, if your CD player is a drive connected to your computer. Click "Start" and select "Control Panel." Click on "Hardware and Sound" and select "Device Manager" under "Devices and Printers." Right-click the icon for your CD drive and select "Update driver software." This may solve any issues the drive was having with playing CDs.