Newer computers with DVD players are quite useful, and can double as multimedia centers. But when problems occur with computer DVD players, you need to determine whether they are physical problems with the actual drive or electronic problems with the device's software or application. Generally, software problems are easier to fix, as most hardware problems often need an experienced technician to diagnose and/or repair the drive.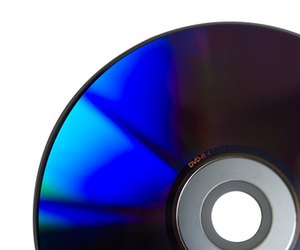 Step
Open the DVD drive and insert a DVD. Close the drive and allow the computer to recognize the disc and boot up the player. If the player does not start automatically, boot it up manually: Click "Start" and "All Programs" and select the player from the menu. Attempt to play DVD by pressing the "Play" button and waiting for a response.
Step
Open and close the DVD drive several times. Listen for noises that are abnormal during standard operation such as loud grinding noises, rattling or clanking. Spray compressed air directly into the open DVD drive to dislodge any small bits obstructing the drive tray.
Step
Inspect the DVD. Look for large scratches or dirty streaks. Wipe the surface of the DVD with a clean, soft towel very lightly to clear away debris, or if it is very scratched, replace it with another DVD or CD. Repeat Step 1.
Step
Re-install the DVD player on the computer by uninstalling first. Find a version of the DVD player online for download. Click "Start," then click "Control Panel." Click "Add/Remove Programs" and allow the computer to populate the list of programs. Select the DVD player and click the "Uninstall" feature. Download the DVD player once more onto the computer and repeat Step 1.