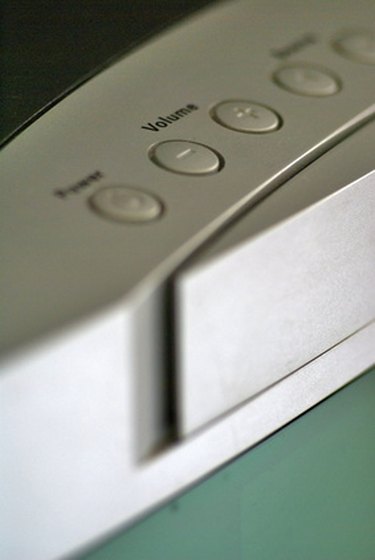 Sometimes the sound system you use doesn't work properly anymore, and you can't figure out why. Many Lenovo computers and third-party peripherals have audio buttons built in to them, but what do you do when those just stop working correctly? Often the physical setup or some mismatched drivers cause these types of issues. By taking a few steps, many users can get their sound systems back up and running the way they want.
Audio Setup
Step 1
Ensure that the speakers themselves are turned on. Check the power button and look for indicator lights. If there is a volume control on the speakers, make sure it is turned up at least a little bit.
Step 2
Check the audio connections. (This is not necessary for a laptop using built-in speakers.) Make sure that the audio cord is connected to the correct output jack. The correct jack usually has an image of headphones or the phrase "Line out" next to it. Refer to your user's manual for specifics. The audio cord in turn should connect to your speakers or to an audio receiver.
Step 3
Ensure that the computer sound is on. Check Windows' "Sounds" and any third-party media programs you are using. You find the "Sounds" section by selecting the Start button (in the lower-left corner of your screen), then "Control Panel," then "Sounds." Also check the sound level of the volume utility in the system tray, located at the bottom-right of your screen. The utility is an icon resembling a speaker, and it displays "Volume" when you hover your mouse over it.
Step 4
Double-check the peripheral with the sound buttons, if applicable. If the volume buttons are on a wireless device or a keyboard; make sure your computer is connected and can receive other commands from it. Try typing or executing some kind of command on the device. If your computer does not respond, the device may need to be reconnected, or even replaced if it's faulty.
Updates
Step 1
Update your Lenovo drivers. Drivers are the software that your computer uses to communicate with its own hardware. Each model of computer has drivers specific to it, and you need the most up-to-date Lenovo drivers to troubleshoot Lenovo issues. This is especially important for Lenovo computers that have sound buttons built into the Lenovo hardware itself. See Resources for a link to Lenovo's website drivers section.
Step 2
Update drivers on the peripheral device that has the sound buttons, if applicable. If the sound buttons are on device like a keyboard or a monitor, you need the most up-to-date drivers for those. Check the manufacturer's website for the most recent drivers.
Step 3
Update DirectX to the most recent version your computer can use. Windows can check for this: Windows XP uses "Automatic Updates," and Windows Vista and 7 use "Windows Update." In XP, select the Start button (in the lower-left of your screen), then "Control Panel," then "Automatic Updates." In Windows Vista and 7, select "Windows Update" in the "Control Panel." Follow the on-screen prompts to check for all updates, and then install any DirectX updates listed.
Further Help
Step 1
Check through the troubleshooting section of Lenovo's website to see if the company has already addressed your specific problem.
Step 2
Look through online forums for users with similar issues. It's likely that other people have had the same problem, and they or someone else may have provided the solution you need. Use caution, though, since most of what you find will not be from professionals.
Step 3
Contact Lenovo support if you have done all you can but the problem is unresolved. Lenovo provides support over the phone, in service centers and with online forms. See Resources.