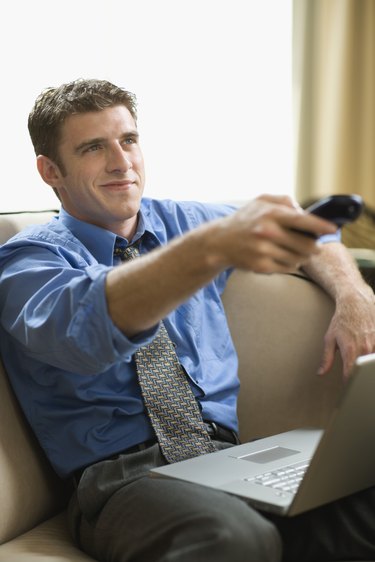 Over-the-air (OTA) antennas let you pick up free digital TV signals, letting you forgo the cost of a cable or satellite service. Most antennas let you pick up digital signals up to 70 miles away from the transmitter. However, if you're having problems having sound, there are a variety of troubleshooting techniques you can use to try resolving your problem.
Reposition Antenna
TV stations transmit digital signals from their towers. If your OTA antenna is close enough to pick up a signal, you see that channel on your TV. Even if you live close enough to a tower to pick up a signal, you may experience audio or picture problems if you have not properly positioned the antenna. The station's signal may need to bounce off objects to reach the antenna, resulting in poor reception. Try placing the antenna in different positions to improve the audio.
Audio Streams
Some TVs, and connected devices such as game consoles or DVD players, let you hear two audio streams, known as Secondary Audio Programming (SAP). If you've set up your device to pick up the SAP stream, you may not hear any sound at all when using an OTA antenna. This happens because some digital channels don't use a secondary audio stream. Turn the feature off to hear the station's primary audio stream.
Digital Audio
In some instances, your TV may not be compatible with the digital audio transmitted by TV stations. For example, some older televisions have trouble working with Dolby Digital audio. If your TV can't pick up digital audio, a Dolby Digital decoder, such as a connected home theater receiver, can do it instead. Also, if you have a set-top box, it may be set up to decode Dolby Digital audio. If you can't hear Dolby Digital audio, disable it via the set-top box to hear stereo audio.
TV Problems
Some audio problems aren't caused by the OTA antenna, but rather are the result of the TV's settings. Make sure the TV isn't muted and that any audio cables connected to the TV are firmly connected, as loose cables can result in poor or no audio. Also, connected external speakers may be damaged or defective. You can text external speakers by disconnecting them speakers from the TV and trying to access a digital channel. If you hear sound through the TV's internal speakers, the external speakers are not working properly. Alternatively, if you're not hearing audio through the TV's internal speakers, both speakers may be damaged or defective, or the speaker cable may have become disconnected from the TV's power board.