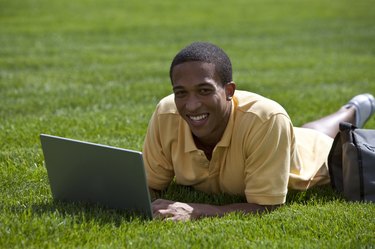 Pageviews and impressions are calculations that help you track visitor behavior on your website. They measure the number of people who view each page and the number of people who see specific page elements, like advertisements. By keeping track of pageviews and impressions, you can identify weak areas in your page design and content and make changes to create a more effective website.
Pageviews
When a Web user visits one of the pages on your website, it counts as one pageview. Each visitor has at least one pageview: the page he lands on, whether it is the home page or another page that comes up in a search. When a visitor clicks over to another page, the second page gets a pageview. Pageviews are tallied for each page of your site. Web analytics programs calculate the average number of pageviews per visitor by dividing the total number of views by the number of unique visitors. This number gives you a sense of how many pages each person looks at when he comes to your site. If your pageview number is low, visitors may be confused by the design or content, allowing you to make adjustments to make your site more user-friendly.
Impressions
Impressions refer to the number of times a visitor sees a specific element of a page -- usually an advertisement of some sort. Impressions are often used to calculate how much an advertiser pays to display his message on a website. Each time a person loads a page and the ad pops up, it counts as one impression. If the website owner is using an ad program that pulls up random ads, the impressions for individual advertisers is lower than for static ads. Impressions are often calculated in sets of 1,000.
Importance
Both pageviews and impressions give a sense of your website's success. A low pageview count can indicate a problem, such as poor website design, a need for calls to action, confusing content, or poor search engine optimization. They can also help you measure the effectiveness of a marketing campaign or promotion designed to bring people to a certain page on your website. An increase in pageviews after the campaign launch can indicate that people have seen your marketing materials. When you combine pageviews with other analytics, such as the referring website and bounce rate, you have a clearer idea of how visitors are getting to your page and how long they stay. If you rely on advertisers to fund your website, pageviews can convince them to partner with you and impressions can convince them to stay.
How to Track
Tracking pageviews and impressions requires a web analytics program like Google Analytics. After signing up for a program, it will generate a piece of code that you insert into all of the pages of your website; the code tracks all site behavior and reports it to your analytics account. When you log into your account, you can view how visitors interacted with your website, including the number of pageviews and impressions. Other analytics programs include Adobe Web Analytics and VisiStat Analytics.