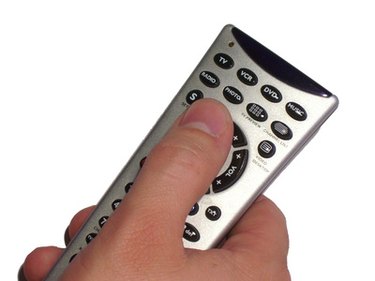 Comcast cable provides phone, Internet and cable services. Cable boxes have processors similar to a computer and can stop working until the system is reset. If you have a cable box that is not working properly or has quit working, you should first attempt to rest the cable box. If resetting the cable box does not correct the issue you are experiencing, you may need to replace the cable box.
Home Reset
Step 1
Unplug the Comcast cable box. This will break the connection to the power source. Leave the box unplugged for one to two minutes. Failure to wait at least one minute will not allow the cable box to reset.
Step 2
Plug the Comcast cable box back in and allow the box to power on. This may take a bit longer than usual.
Step 3
Try changing channels to see if the box is working. Your menu and guide will not show current information because the box will need time to download this information to display it properly. If you box is still not functioning properly, proceed to the next section.
Call Comcast
Step 1
Call 1-800-COMCAST to reach a technical support specialist. Enter the phone number associated with your account and follow the prompts for reaching technical support.
Step 2
Tell the Comcast agent that you are having an issue with your cable box and have tried to reset the box by unplugging and it was not successful. The agent will need you to read the number on the cable box to him. The number is on a white label on the rear of the box.
Step 3
Follow the agent's instructions. He will review the system on his side and see if he can see an error with the box. He may have you attempt to unplug the box again or he may proceed to immediately send a signal to the box to reset it remotely.
Step 4
Return the box to your nearest Comcast location if the agent is unable to reset the box remotely or if you continue to have problems. Comcast will replace the box free of charge.