The MP4, also known as MPEG-4, specification is set forth by the ISO, International Organization for Standardization, as a multimedia container format for audio and video streams. This container format holds MPEG encoded data as well as subtitles or images. MP4 is quickly becoming a standard file type for multimedia on the Internet. Due to this, it is important that computer users understand how to use these files in everyday computing tasks, such as CD authoring.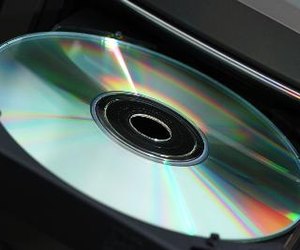 credit: Disk in the drive image by Sergey Galushko from <a href='http://www.fotolia.com'>Fotolia.com</a>
File Preparation
MP4 files are used heavily for high definition content. Therefore, it is import that the user prepare the file in a manner that splits the file so it will fit onto several CDs. CD media supports a maximum of 700 MB per disc. To burn most MP4 files it is important that the user split the files with a file splitter software, such as File Splitter, or an archiving software that can shrink and split the file, such as Winrar. Both of these software packages are freely available for download.
Burning Process
Due to the widespread acceptance of optical media authoring, CD burning has become a basic operating system function. Though using the operating system may not provide many user settings, the basic process of getting the data onto a disc quickly makes this method the easiest for both advanced and novice users alike. To burn the newly created files onto a CD, insert a blank CD into the CD recordable drive. After this, simply drag and drop the first file to be burned to the recorder and a Windows prompt will appear asking for a name for the disc. Enter a name and press the "OK" button and the burning process will begin. Once the process is complete the CD will automatically eject. Repeat this process until you have burned every piece of the MP4 file to disc.
Post Burning Considerations
After the burn process is complete there will likely be anywhere from two to 14 CDs. Due to the large number of potential discs, it is important that the user properly store and label these discs. Losing or damaging one disc may easily make all the remaining discs useless.