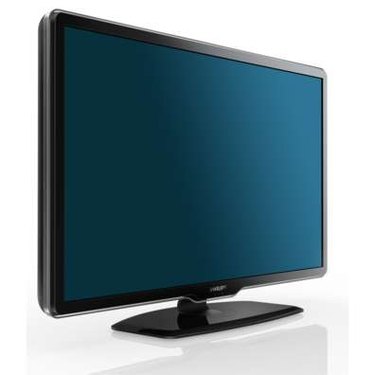 It can be a horrible feeling when your Philips LCD TV, the centerpiece of your home theater, starts acting funny. Perhaps it won't turn on, or possibly the picture just doesn't look right. Before you panic at the thought of not getting to watch the big game, learn some basic troubleshooting techniques that may be able to make that panic disappear.
Power trouble
If the TV is getting power, you should see an indicator light on the front of the TV. If you don't see that light, make sure the TV is plugged in, and the AC cord is properly attached to the TV. Try plugging another device into the same outlet to make sure the outlet is working, or try plugging the TV into a different outlet. Also, make sure your remote has fresh batteries. Try the power from both the remote and the TV itself.
Picture trouble
Check all of the connections to the TV. Often people will incorrectly connect component or composite cables, so make sure they are correctly and securely connected. Make sure the TV is set to the correct AV input as well. If the picture is distorted or stretched out, press "Format" on the remote to select the correct screen format. If the colors appear off, try adjusting the color settings from the TV's menu. You may want to consider a calibration disc like Digital Video Essentials to obtain the optimal color settings for your TV.
HDMI Trouble
If you are using an HDMI (High-Definition Multimedia Interface) cable to connect a device, such as a Blu-ray player, make sure the connection is secure. Also make sure the device is compliant with HDCP (high-bandwidth digital-content protection). If you are not getting a picture, it means an HDCP authentication fail. Try switching to another input and then switching back. If that doesn't work, turn off the TV and the device. Then turn the device on first and then the TV.
Sound trouble
Make sure the TV is not on mute. Try raising or lowering the volume from both the remote and the television. Make sure all audio connections are tight and no headphones are plugged in. Make sure the speakers on the TV are not turned off. Lastly, if you are using an HDMI cable, make sure the input device has HDMI audio turned on.
Serious trouble
Contact Philips customer support. You can call Philips at (888) 744-5477. The customer service line is open Monday through Friday, from 8 a.m. to 11 p.m. EST. It is also open from 9 a.m. to 6 p.m. EST on Sunday. The line is not open Saturdays. You can also log onto Philips' tech support website, located in the resources section.