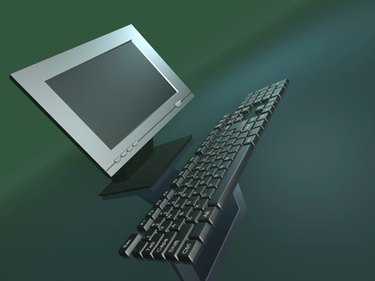 Many Windows-based computers have a password protection system that forces users to enter a password before they can access any files on the computer. While this security measure is perfect for protecting important documents, this can often lead to users forgetting their password and getting locked out of their computers. There are a few simple processes that users can take to reset any forgotten passwords.
Step 1
Hit "Control," "Alt" and "Delete" on your keyboard all at the same time and hold them for a few seconds. Select "Restart" from the list of options presented in the Task Manager. If you cannot get to the task manager using this method, manually shut down your computer by pressing and holding the power button. Wait about 30 seconds before turning the computer back on.
Step 2
Wait for the computer to get to the Windows logo then press and hold "Control," "Alt" and "Delete." The classic login box will appear. Type "Administrator" in the dialogue box marked "User" and leave the password box empty. Click "Sign in" or hit "Enter" and wait for Windows to load the administrator profile.
Step 3
Click the "Start" button on the bottom-left corner of your screen. Scroll through the list of programs until you find "Control Panel" and open it.
Step 4
Locate the "User Accounts" tool. In the "User Accounts" window, select the password tab. Locate the account that you wish to reset the password for and select the text box with the black dots in it. Delete these dots and enter the password that you wish to use. Re-enter the new password in the "Confirm New Password" area. Click "Apply."
Step 5
Close all of the open windows. Then, click your "Start" menu and select "Restart." Wait for Windows to restart and this time allow it to boot up normally. Enter the new password into the "Password" dialogue box and hit "Enter."