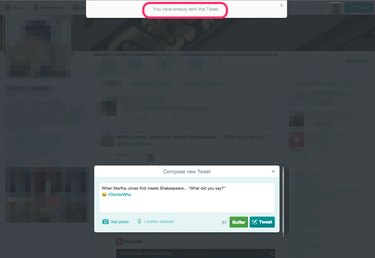 What do you do if Twitter suddenly won't let you tweet? There are a number of possible reasons that may interfere with Twitter use, including account suspension — in the event of rule violations, for example — hacking, or inappropriate use. The following tips and troubleshooting will help get you tweeting again.
Problems With Tweets
Two of the most common reasons why you may be unable to tweet include trying to post a repeat tweet and by attempting to share a problematic link.
Repeat Tweets
When you post a tweet on Twitter and the text matches one you previously posted, Twitter stops the tweet with an error message that typically says "Whoops, you already said that." Twitter tries to keep content fresh and reduce spam by ensuring that users create unique tweets. Review the text and revise it to create unique content. This error message most commonly occurs when your tweet matches a recent one you posted; publishing the same tweet once or twice a year is unlikely to cause an issue.
Bad Links
Does your tweet include a link? Twitter's system includes automations that reduce inappropriate or spam tweets. To keep the automations effective, Twitter uses a database of predetermined URLs or website links deemed unsafe. If you've tried to tweet a link that matches one in the database, the tweet will not post. Adding one of these links to your Twitter profile may also create problems when you go to access your account. Most of the links in the database are for spam, malware or phishing websites that can compromise other people's computers if they click the links. If you know for certain that you're linking to a safe website, you can complete a support ticket for support and request Twitter review the site.
Third-Party Apps
Accessing Twitter from a mobile app can occasional prove problematic, especially if you're not using the official Twitter app. If you've been unable to tweet from your mobile device, access your Twitter account from a computer to make sure you have access. In some cases, third-party mobile apps don't update to meet changes with Twitter or other platforms. If the app you're using is no longer functioning, it's time to move on to another. Most mobile apps include a link to the developer's website where you can submit a request for help, send them an email, or access FAQs and troubleshooting information.
Problems With Twitter Accounts
If you're entering the right password but unable to log in from a computer or the Twitter app, it may be the result of a failed login attempt, which can lock your account for an hour. This will clear automatically and you can try to log in again after the time has passed. But what if the correct password isn't working and you can't seem to recover access to your account? Your Twitter account may be compromised.
Suspicious Activity
The most common signs of hacking on your Twitter account include DMs (direct messages) sent from your account that you know that you did not send, and tweets posted by your account that you did not create. The Twitter account may have been compromised directly, or someone may be accessing your account through a third-party app. Twitter recommends that you revoke access for all third-party apps in your Twitter Account Settings, then change your password and update your password in trusted third-party apps. If trouble persists, submit a request to Twitter for help.
Rule Violations
Twitter has rules. Although most are self-explanatory and common sense, Twitter users occasionally violate rules by accident, which leads to temporary account suspension. In this instance you will be able to log in to your account but unable to tweet. Twitter has an appeal process for suspended accounts will guidelines on how to get your account back up and running.