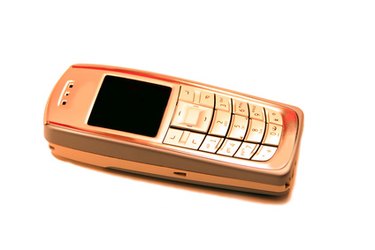 Many new handsets come with the option of setting a security passcode to lock/unlock your phone. Setting a security passcode keeps your phone safe in the event that it is lost or stolen. Without the security passcode, you will not be able to use your phone to make or receive calls, or to view data such as contacts, text messages or emails. If you have forgotten your passcode, you will be able to reset it.
Step 1
Enter the generic code for your phone and press "OK." Your generic code will normally be "0000" or "1234." If these codes do not work to unlock you phone, and you have not created the personalized passcode, check your phone manual or call your wireless provider to obtain your phone's generic passcode.
Step 2
Press the pound ("#') key and enter your security code. This is a six-digit number that is usually set to "000000."
Step 3
Call your phone manufacture and give the make and model of your cell phone to the agent. Ask for a reset code. In some cases, he or she will be able to reset the phone by canceling out your personalized code and replacing it with a generic one.
Step 4
Contact your wireless provider. Go to the store you purchased your phone from and explain to them that you have created the passcode, but you can no longer remember what it is. You will need to provide your account details to the customer service agent to unlock your handset. This may include your cell phone number, date of birth, address and answers to any security questions set on the account.
Step 5
Call your wireless provider. They will ask the security questions set for your account and for your account details. They will troubleshoot your phone in order to restore it to factory settings. From here you'll be able to reset your passcode.
Tip
Make your cell phone passcode a four-digit number that you will remember. Do not make this number your birth year or a quadruple digit number, such as 1111, 2222 or 3333.
If your handset is locked, you will not be able to make any phone calls--this includes calls to emergency services.
Warning
If you enter your passcode three times incorrectly, you will be locked out of your handset.