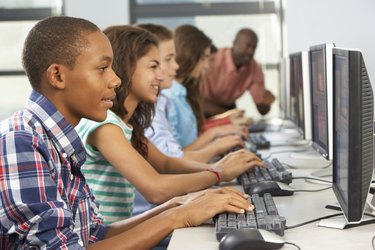 Digital technologies help students to learn, recall and retain information. Lectures provide a retention rate of only 5 percent, according to a report by Jeffrey A. Cantor, Dean of Extended Studies & Workforce Education at Norwalk Community College. The same report claims reading increases retention to 10 percent and audio-visual activities can improve retention rates to 20 percent. Some hands-on methods, including those with digital technology, can result in retention rates up to 90 percent. Digital technologies help students apply learned information through a variety of learning methods simultaneously and help make teachers' lesson plans more engaging.
Improved Learning
Digital technology complements the traditional classroom by expanding the manner and methods used to instruct students. According to a 2011 report by the Nellie Mae Education Foundation, technology provides personalized learning, develops computer skills needed to succeed in a global society and increases student engagement. Teachers who want to use technology in the classroom need to concentrate on using it when it can help reinforce a topic, provide additional lesson flexibility and give students choices to direct their own progress. For example, educational games can help a student apply concepts learned from a math lesson by giving her a more difficult problem when she gets an answer right, or provide an easier problem if she gets an answer wrong. By providing real-time, individualized feedback, learning retention increases and teachers benefit from lesson plans that accommodate students of varying abilities.
Learning Disabilities
Assistive technology can help students with learning disabilities participate in regular lessons. Students can benefit by using digital recorders, text-to-speech programs and digital books that highlight the words to help those with reading disabilities stay focused on the text. Digital technologies can make alternate forms of print textbooks and other school materials in a format that helps them learn and apply concepts taught in school. Students with dyslexia, for example, benefit from technologies that allow them to listen to text while seeing the text, according to the National Center for Learning Disabilities.
School Subjects
Mathematics and science-related courses tend to show the most benefit when teachers employ digital technology, according to a report issued by the Durham University School of Education. In literacy, digital technologies tend to provide the most benefit when applied to writing interventions that improve fluency. Spelling and reading don't tend to show the same level of improvement. For the most effective use of technology, teachers need to undergo at least a full day of training to learn how to effectively implement technology. Teachers must use technology to supplement teaching and not use it as a replacement for entire lessons.
Student Engagement
Digital technology can increase a student's enjoyment and promote enhanced engagement in lessons. The concept of student engagement first emerged in the late 1980s, according to a report issued by the Canadian Education Association. Since then, new methods of increasing student engagement have focused on the role of digital technologies. Student engagement through the use of digital technologies can increase the length of time that a student participates in an activity at a high level. However, even though technology can improve student motivation and engagement, teachers need to ensure that the use of technology actually promotes learning.