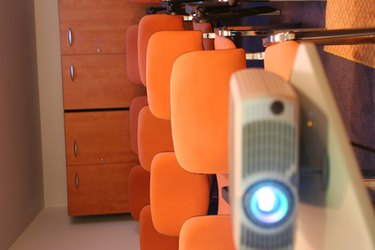 A data project is used to project the contents of a computer screen onto a big screen or wall so that a large audience can see the information. Data projectors are particularly popular for use with presentation software.
Function
A data projector is used with either laptop or desktop computers. Projectors use S-Video, RCA cables or USB connections to hook to the computer. In classrooms and business presentation rooms, data projectors are often hooked to both computer and video equipment.
Uses
The most ubiquitous use of a data projector is for presentations in business meetings or classrooms. Presentation software allows a user to create slide shows of photos, type written information and display graphs. Teachers in high school and college make extensive use of data projectors to give notes or lectures, as do businesspeople making presentations to co-workers or clients.
Considerations
There are a variety of features and functions to consider when purchasing a data projector. Bulbs come in varying brightnesses and have varying degrees of clarity and color replication. Some projectors can be used close to the screen or wall--called ultra short throw projectors--while others need more distance. Consider all the features before purchasing.